July 24, 2019
Austal Philippines Completes USD 20M expansion of Balamban Shipyard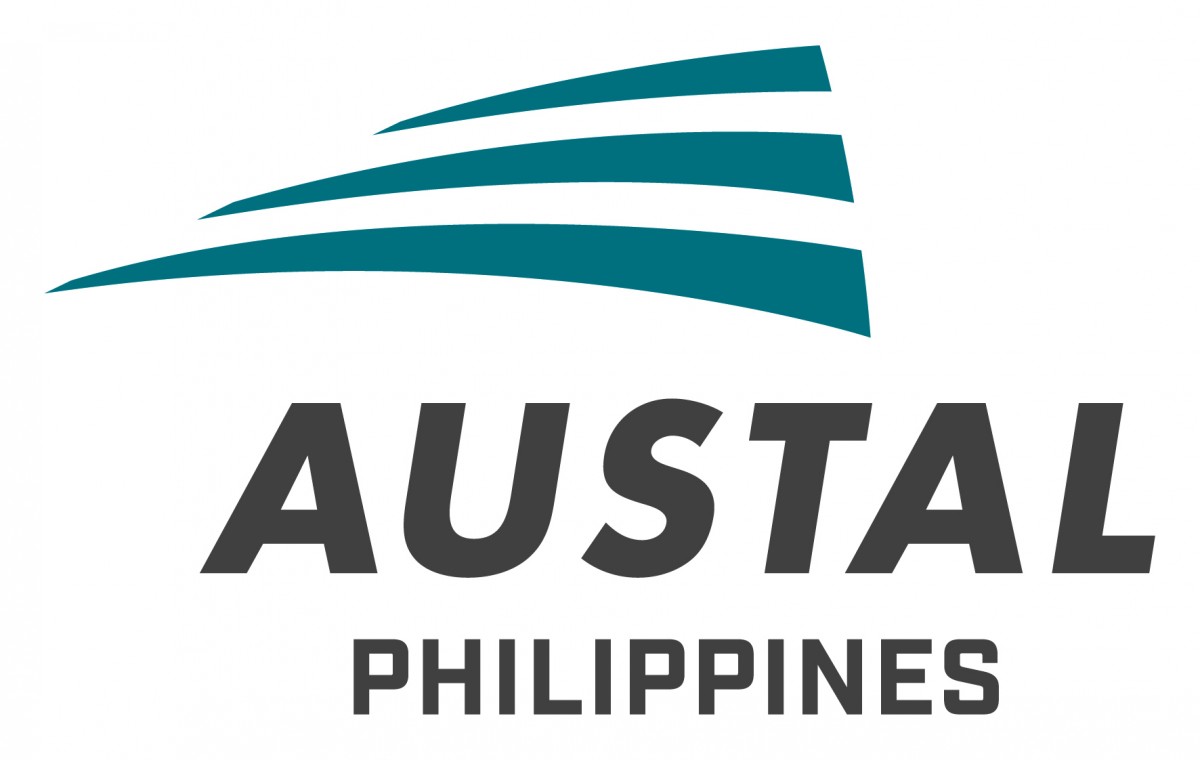 News Release
24 July 2019
Austal Philippines Completes USD 20M expansion of Balamban Shipyard
Expanded shipyard trebles production capacity, buoys employment for Filipinos
CEBU, PHILIPPINES —Austal Philippines, a regional hub of leading global shipbuilder and defense prime contractor Austal Limited (Austal) (ASX: ASB), has successfully completed an expansion of its shipbuilding facilities in Balamban, Cebu.
Located in the West Cebu Industrial Park, Austal Philippines shipbuilding facilities operates as a global center for commercial vessel design, development, and construction of Australian based shipbuilding company Austal. The facility is strategically positioned to cater to future market demands for commercial and defense vessels, including passenger and vehicle passenger ferries, offshore crew transfer vessels, and naval ships.
Investment Showpiece
Key to the expansion is the John Rothwell Assembly Bay. Designed to accommodate large vessel projects for hull assembly, final outfitting, and painting capacity; the JR Assembly bay is an impressive structure measuring 120 meters long, 43 meters wide, and 41 meters tall.
"Our Balamban Shipyard is a showpiece. Here we bring together Austal's most advanced maritime technologies and the outstanding capabilities of our Filipino colleagues. The opening of the new JR Assembly Bay allows us to further strengthen the order book of the Austal Philippines shipyard, ushering in more projects and employment to the local workforce," shared Austal Philippines President Wayne Murray.
The company invested USD$20 million over 2012 - 2017 covering the reclamation of an additional 20,000m2 of waterfront land and the development of new hardstand and mooring facilities that will allow a greater number of larger vessels to be designed, built, and maintained in the Philippines. The largest vessel, by volume, ever to be built by Austal in 30 years - Hull 419, a 109 metre vehicle passenger ferry for Fjord Line Norway — is currently under construction in the John Rothwell Assembly Bay.
For Filipinos, By Filipinos
At present there are over 900 Filipino engineers, design staff, skilled laborers, and production tradespersons employed at the Balamban shipyard.
Ninety-eight percent of Austal Philippines' workforce; from engineers to designers, fabricators to accountants are Filipino. The expansion of the facility is expected to further boost employment opportunities in the area.
"Since 2011, Austal Philippines has become an integral partner of the global Austal Group in building revolutionary high-speed ships for governments, navies, and ferry and offshore operators around the world," remarked Austal Chief Executive Officer David Singleton. He added that "the expansion is part of our ongoing strategy to regionalize the manufacturing base for commercial vessels, and the Cebu shipyard has delivered 17 ships to 10 operators in 9 countries globally. It adds great value to both local communities and the greater Philippine economy by generating local employment and supply chain opportunities."
Ready to Design, Construct and Maintain Naval Vessels
Now with a license to construct naval vessels, the shipyard is ready to deliver major naval projects such as the Offshore Patrol Vessels for the Philippines Navy.
Austal had earlier expressed interest to build six offshore patrol vessels (OPVs) for the Philippine Navy, as part of the modernization program of the Armed Forces of the Philippines. The vessels offered by Austal are a larger variant of the Cape-class patrol vessels used by the Royal Australian Navy and Australian Border Force.
The newly-expanded state of the art facilities in Balamban have trebled the company's shipbuilding capacity and will allow OPV's to be immediately constructed and maintained for the Philippines by an experienced and ready workforce. The shipyard is also ready to construct other navy vessels, for export.
For more information about Austal's shipbuilding capabilities and business, visit https://philippines.austal.com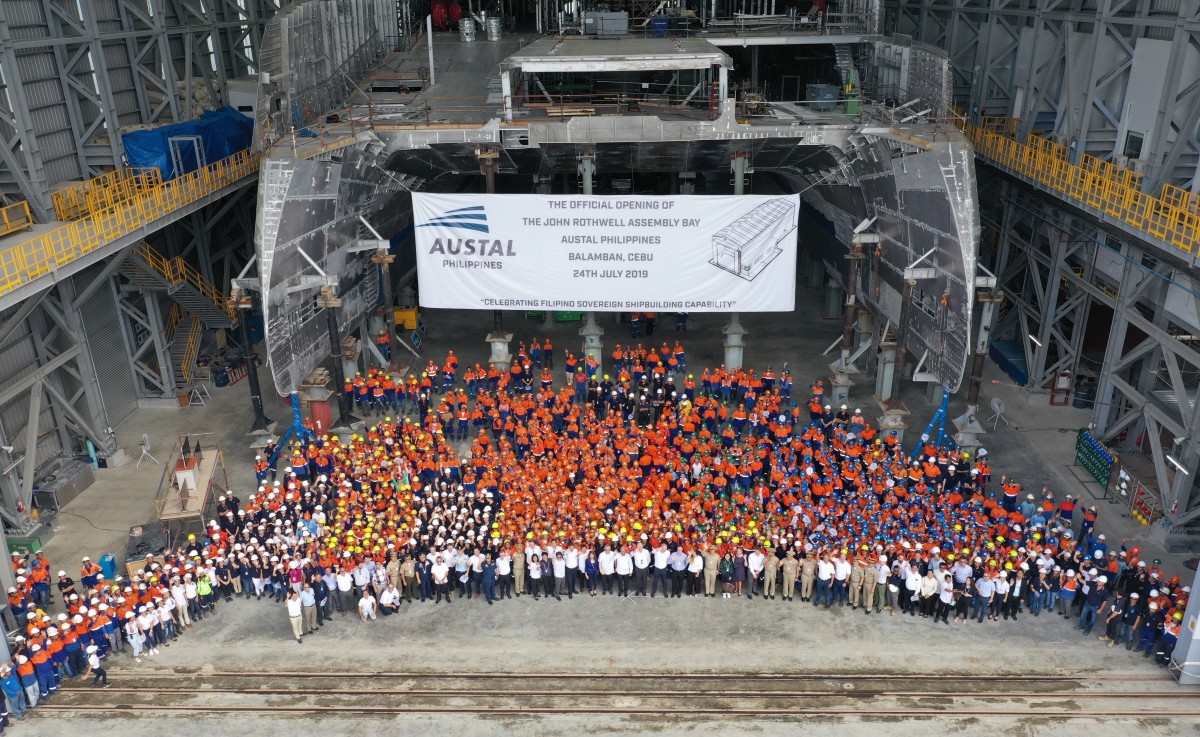 Austal Philippines celebrated the opening of the John Rothwell Assembly Bay at the Balamban, Cebu shipyard on 24 July 2019. The assembly bay is currently housing the construction of Hull 419, a 109 metre high speed aluminium catamaran for Fjord Line of Norway.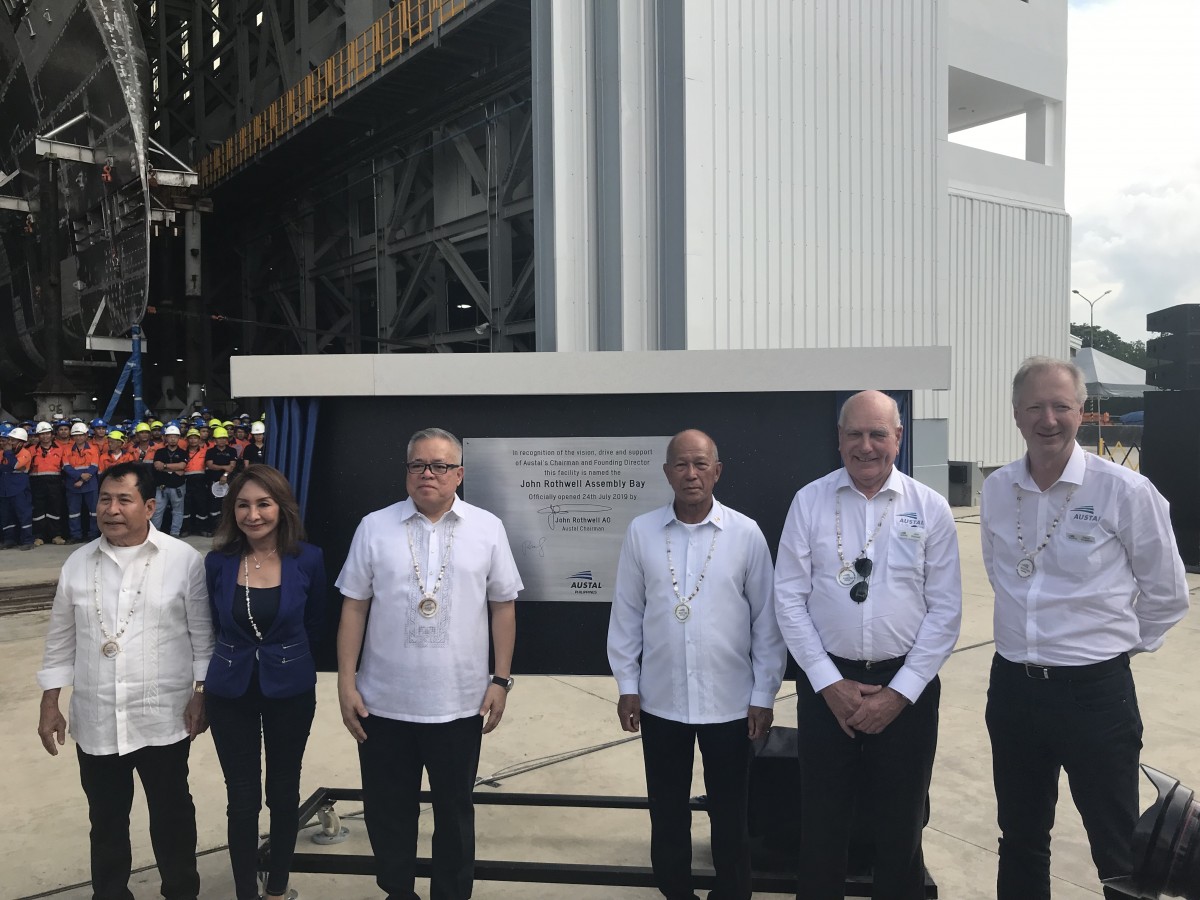 From Left: Mayor of Balamban Alex Binghay, Governor of Cebu Gwendolyn Garcia, Secretary of Trade and Industry Ramon Lopez, Secretary of National Defense Delfin Lorenzana, Austal Chairman John Rothwell and Austal Chief Executive Officer David Singleton at the opening ceremony (plaque unveiling) of the John Rothwell Assembly Bay at Austal Philippines, Balamban Cebu.
Media contact:
Marzie Marzan
EON-ENGAGE
Email: marzie.marzan@eon.com.ph
Contact no: +63 09178357305
Further Information
| | |
| --- | --- |
| Contact: | Austal |
| Phone: | 61 8 9410 1111 |
| Fax: | 61 8 9410 2564 |
| Email: | media@austal.com |