February 11, 2020
AUSTAL PHILIPPINES LAUNCHES 109 METRE CATAMARAN FERRY – THE LARGEST ALUMINIUM FERRY EVER CONSTRUCTED IN THE PHILIPPINES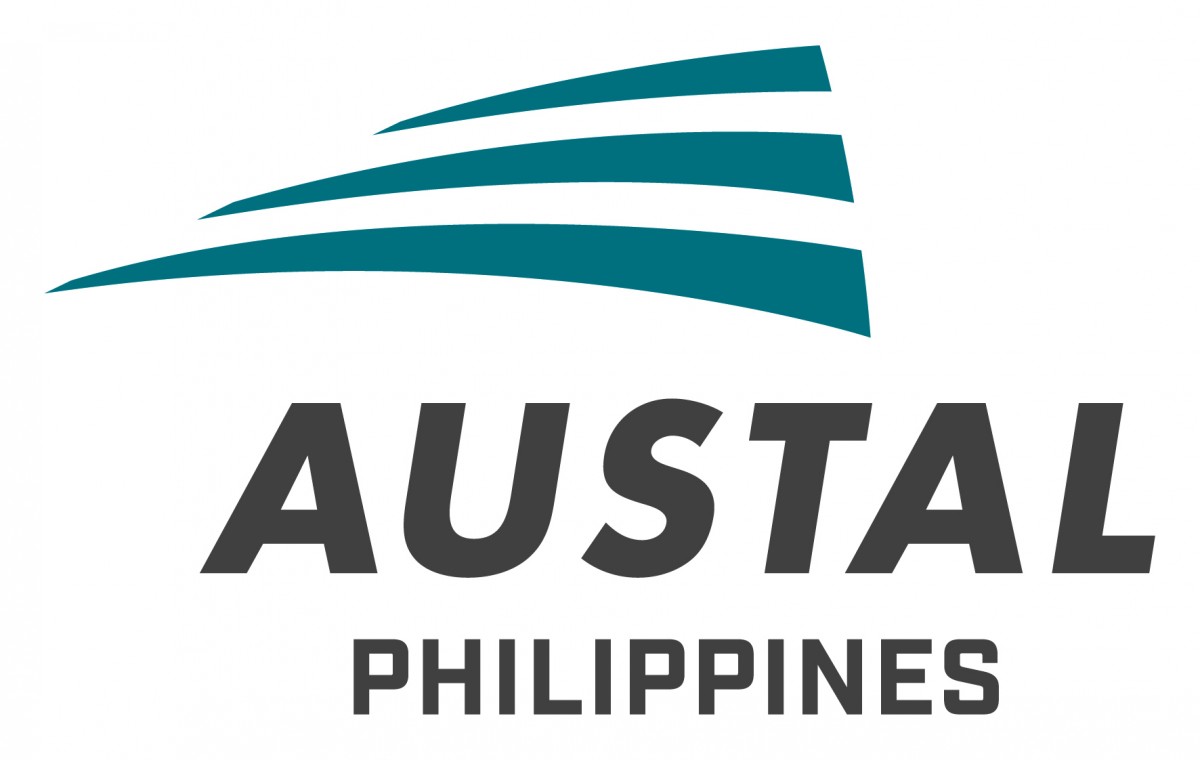 MEDIA RELEASE
12 FEBRUARY 2020
AUSTAL PHILIPPINES LAUNCHES 109 METRE CATAMARAN FERRY - THE LARGEST ALUMINIUM FERRY EVER CONSTRUCTED IN THE PHILIPPINES
Austal Limited (ASX:ASB) is pleased to announce that Austal Philippines has successfully launched Hull 419, a 109 metre high-speed catamaran ferry, from the company's recently expanded Balamban shipyard in Cebu.
The vehicle-passenger ferry, to be known as FSTR, is the largest aluminium vessel ever launched in the Philippines – and the largest (by volume) ever constructed by Austal, worldwide.
The vessel is now in the final stages of fit out, prior to delivery to Fjord Line of Norway in the 2nd quarter of CY2020.
Austal Chief Executive Officer Mr David Singleton said the launch of the 'Auto Express 109' catamaran was a significant milestone for Austal Philippines, as the first ship to be wholly constructed from the Balamban shipyard's expanded production facilities, which were opened in July 2019.
"This impressive new ship for Fjord Line of Norway is the first of many large, high-speed commercial ferries to be constructed at our expanded shipyard in the Philippines. After Hull 419, we have Hull 395, a 118 metre trimaran, under construction - which will be the longest high speed ferry to be constructed in the Philippines.
"We also have a 115 metre catamaran ferry scheduled for construction at Austal Philippines later this year which will be another record build, as the largest vessel (by volume) to be constructed by Austal, worldwide," Mr Singleton said.
Hull 395, the 'Banaderos Express' for Fred. Olsen Express of the Canary Islands, is a 118 metre high-speed trimaran ferry and a sister ship to Bajamar Express, launched in Australia last week. Hull 423, a 115 metre high speed catamaran ferry to be known as Express 5, is a follow-up order from Molslinjen of Denmark and is scheduled to commence construction in Balamban in the third quarter of CY2020.
Austal Philippines President Mr Wayne Murray celebrated the launch of Hull 419 by thanking the approximately 1,000-strong Filipino shipbuilding team and acknowledging the outstanding capability of the Balamban shipyard – which now includes a 120 metre long assembly bay and multiple new fabrication bays.
"I am exceptionally proud of the entire Austal Philippines team. The launch of Hull 419 from our newly expanded shipyard is a significant event that highlights our capability to deliver multiple vessel projects concurrently – safely and cost effectively," Mr Murray said.
Fjord Line's FSTR (Hull 419) is capable of transporting 1,200 passengers at up to 40 knots and features Austal's largest ever vehicle-carrying capacity constructed to date, with a beam of 30.5 metres enabling 404 cars to be carried across two decks. The ship features several key design innovations that enhance operating performance and passenger comfort, including a new, optimised hull form that will minimise fuel consumption and wake wash when operating on the Skagerrak Sea between Hirtshals, Denmark and Kristiansand, Norway.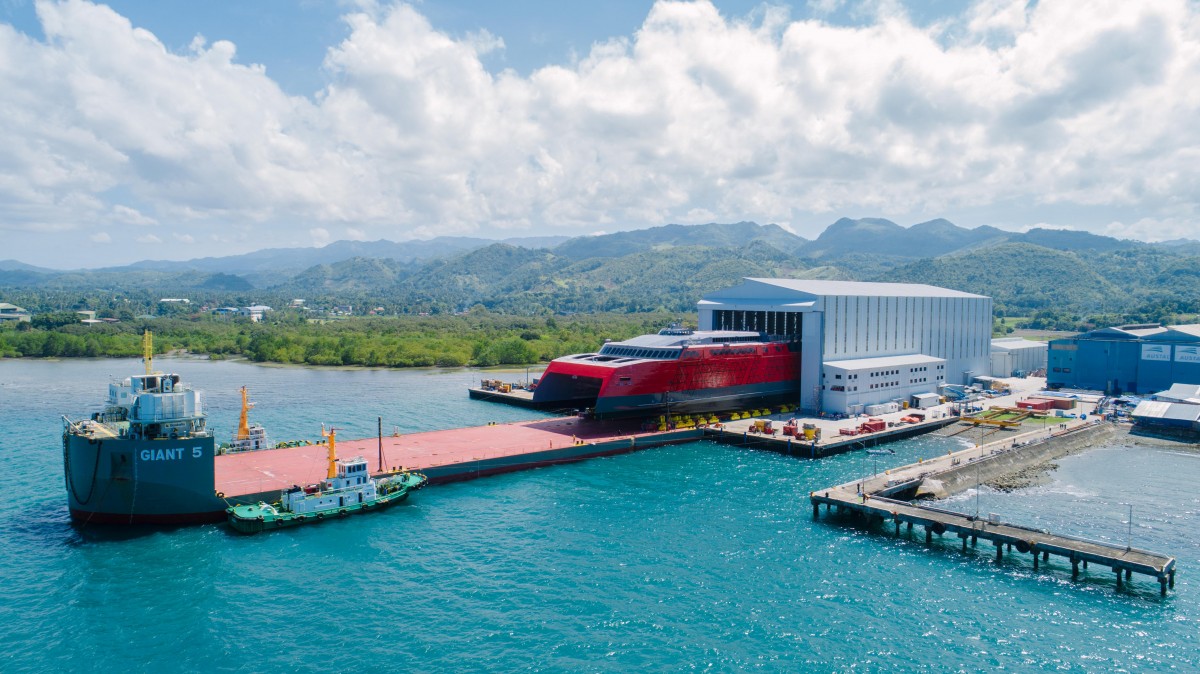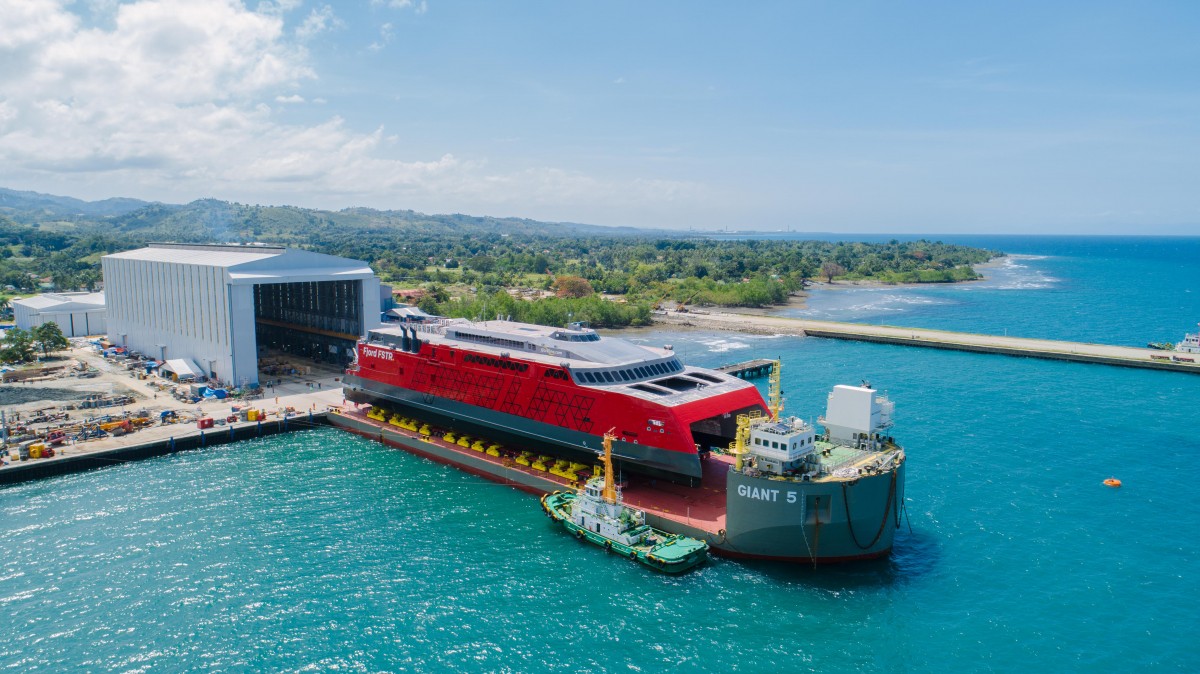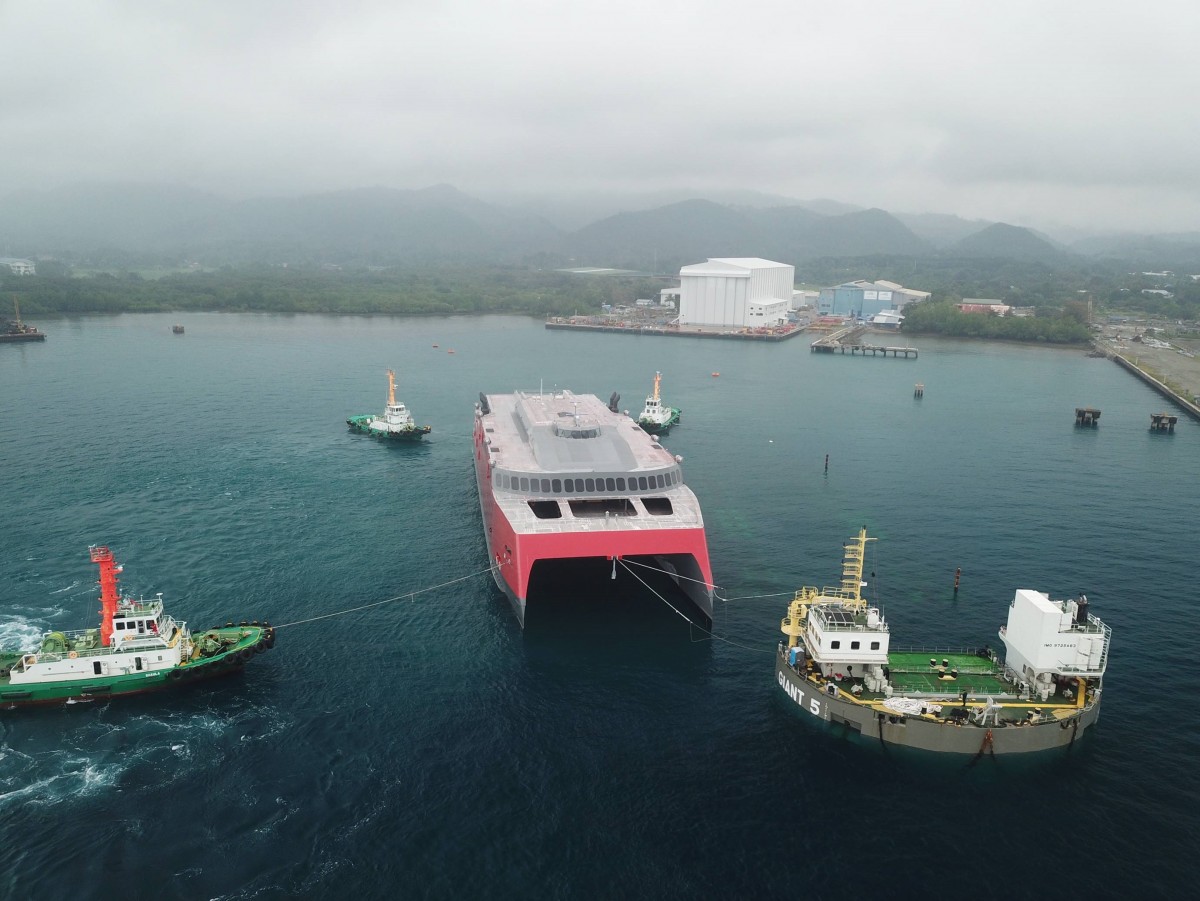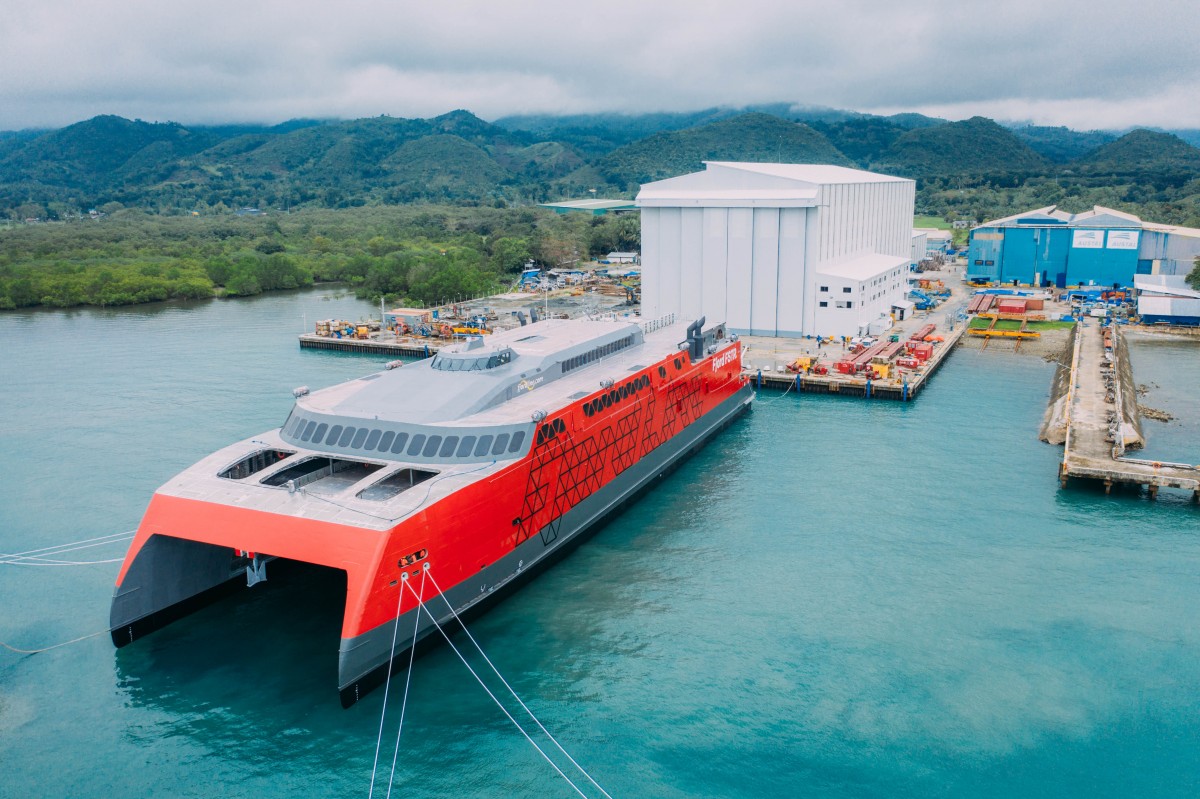 Austal Philippines has successfully launched Hull 419, a 109 metre high speed catamaran ferry for Fjord Line of Norway at the company's Balamban, Cebu shipyard. (Images: Austal)
-ENDS-
Media Contact:
Marzie Marzan
EON Group, Manila
+632 8935642
About Austal Philippines:
Austal Philippines is located in Balamban, Cebu and commenced operations in February 2012 - as part of a competitive strategy by Austal to regionalize its manufacturing base for commercial vessels.
The shipyard began with 30 employees and now boasts a workforce of over 900. The Austal Philippines shipyard features modern facilities enabling best practice, modular construction processes that meet Austal's internationally renowned, high standards of quality and safety. The company has added great value to both the local community and the greater Philippines economy; generating local employment and supply chain opportunities.
The company supports the purchasing and procurement of materials used in production from local businesses, wherever and whenever possible. With 18 vessel programs delivered since 2012 and a strong order book for the coming years, Austal Philippines has quickly earnt the valued position as a global centre of excellence for Commercial vessel design and construction within the Austal Group.
About Austal Group:
Austal is Australia's global shipbuilder and defence prime contractor designing, constructing and sustaining some of the world's most advanced commercial and defence vessels.
For more than 30 years Austal has contracted more than 300 vessels for over 100 commercial and defence operators in 54 countries, worldwide. Austal is Australia's largest defence exporter and first ASX-listed shipbuilder. Austal has industry-leading shipyards in Australia, the United States of America, Philippines and Vietnam with service centres worldwide, including the Middle East.
Austal delivers iconic monohull, catamaran and trimaran commercial vessel platforms – including the world's largest trimaran ferry and multiple defence programs such as the Littoral Combat Ship (LCS) and Expeditionary Fast Transport (EPF) for the United States Navy.
Austal is the only foreign-owned prime contractor designing, constructing and sustaining ships for the US Navy.
Austal has grown to become the world's largest aluminium shipbuilder and is Australia's largest defence exporter.
Further Information
| | |
| --- | --- |
| Contact: | Austal |
| Phone: | 61 8 9410 1111 |
| Fax: | 61 8 9410 2564 |
| Email: | media@austal.com |