March 26, 2015
Condor Liberation commences services across the English Channel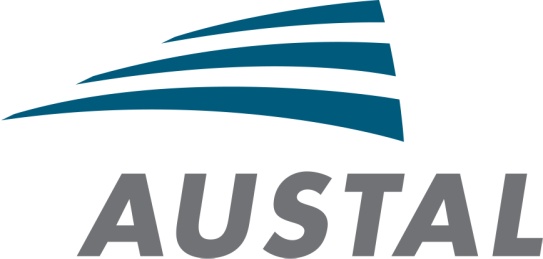 Austal congratulates Condor Ferries on the commencement of services by the 102m trimaran ferry, Condor Liberation between the South Coast of England and the Channel Islands of Guernsey and Jersey today.
The launch of the new ferry was held in both Guernsey and Jersey over the weekend of 21st and 22nd March 2015; with thousands of excited residents, visitors and VIP guests attending open days to inspect the £50 million vessel. After its first official inter-island sailing, travelling from St Peter Port in Guernsey to St Helier Harbour in Jersey, Condor Liberation was blessed by the Acting Dean of Jersey, Geoff Houghton.
Austal's Vice President of International Sales and Marketing, Dave Shiner, who attended the open day on Guernsey, said the launch of Condor Liberation was a great demonstration of Condor Ferries' commitment to the residents of and visitors to the Channel Islands - and Austal's leadership in commercial maritime technology.
"I would like to offer my congratulations to Condor Ferries on the successful launch of Condor Liberation. Austal is proud to have designed and constructed this impressive ship and we now look forward to delivering through-life support to Condor Ferries as the vessel serves the passengers wishing to travel across the English Channel between the Channel Islands and the UK." said Mr Shiner.
Designed and constructed by Austal, the Auto Express 102m incorporates an iconic, all aluminium trimaran hull design - and Austal's proprietary 'Ride Control' technology - that delivers greater speed, improved fuel consumption, greater passenger comfort and enhanced seakeeping capabilities.
Austal completed a major optimization program for the 37 knot vessel, which boasts capacity for 880 passengers and 245 cars, in December 2014, prior to delivery to Condor Ferries.
Condor Liberation will provide regular vehicle / passenger ferry services between the Channel Islands and the UK, offering a daily service from Poole to Guernsey and Jersey.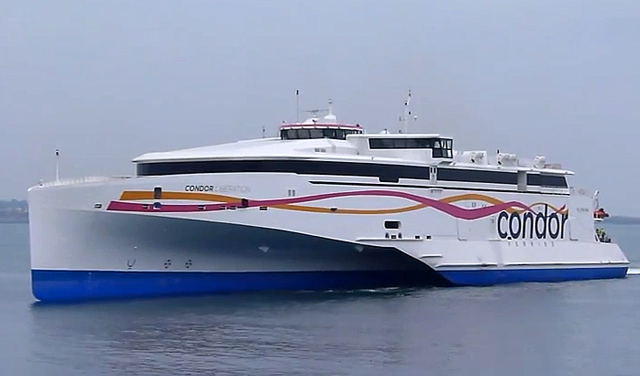 -Ends-
About Austal
Austal is a global defence prime contractor and a designer and manufacturer of defence and commercial ships. For more than 25 years Austal has been a leader in the design, construction and maintenance of revolutionary ships for Governments, Navies and Ferry operators around the world. More than 250 vessels have been delivered in that time.
Ships
Defence vessels designed and built by Austal include multi-mission combatants, such as the Littoral Combat Ship (LCS) for the United States Navy and military high speed vessels for transport and humanitarian relief, such as the Joint High Speed Vessel (JHSV) for the United States Navy and High Speed Support Vessel (HSSV) for the Royal Navy of Oman. Austal also designs, constructs, integrates and maintains an extensive range of patrol and auxiliary vessels for government agencies globally, including the Cape Class Patrol Boat Program for Australian Customs and Border Protection. Defence vessels are designed and constructed in Mobile, Alabama and in Henderson, Western Australia.
Austal has been at the forefront of the high speed ferry market since the early days of the industry. Our market leading designs of high performance aluminium vessels have long been at the heart of Austal's research and development. Today, commercial ship construction is centred on our shipyard in Balamban, Philippines.
Systems
Austal has expertise in integrating complex systems into its ships, including ride control, ship management, and communication, sensors and weapon systems.
Support
Austal provides a wide range of support services, including through life support, integrated logistics support, vessel sustainment and systems support. These services are delivered through our global support network in the USA, Australia, Asia, the Caribbean and the Middle East together with partner shipyards worldwide.
For further information please contact:
Simon Smith
Regional Sales Manager, UK & Europe
M: +44 7768 614229
D: +44 1252 856257
simons@austal.com
www.austal.com
Further Information
| | |
| --- | --- |
| Contact: | Austal |
| Phone: | 61 8 9410 1111 |
| Fax: | 61 8 9410 2564 |
| Email: | media@austal.com |